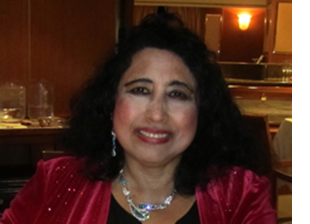 Greetings to my wonderful Readers who enjoyed my books over the year and provided me the support to carry on. My writing is my pleasure when my readers love to read them. This is my new website created by a very talented person which I hope you all will like it. It is very easy to go around and find the topics you want to locate and appreciate. From time to time I will update the events and what I will be doing in the future.
Hope you have read my first book, "In Pursuit of Love, Spirituality and Happiness," If you didn't you can read it in my website. This year I have published one book called, "All those tears we can't see" which got wonderful reviews from Booklife.com (Publishers weekly). Indiereades.com recognized it as a literary fiction and gave 4 stars. Talented Author K.C Finn and Reviewer Becky Holland provided me with excellent reviews which you can read on my review page. I am grateful to Godreads.com for the encouragement. Though I am a new author all my readers gave me support for my book and gave me 4 or 5 stars. I am eternally grateful to them for their patience. My third book will come out next year. I have finished 9 chapters and few more chapters to be written but editing will take some more times, then I can publish next year. It is a love story with the back drop of Aids.
Always love to hear from my readers. So please write to me and don't hesitate to provide your opinion. Bye with love.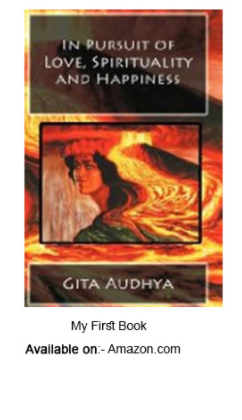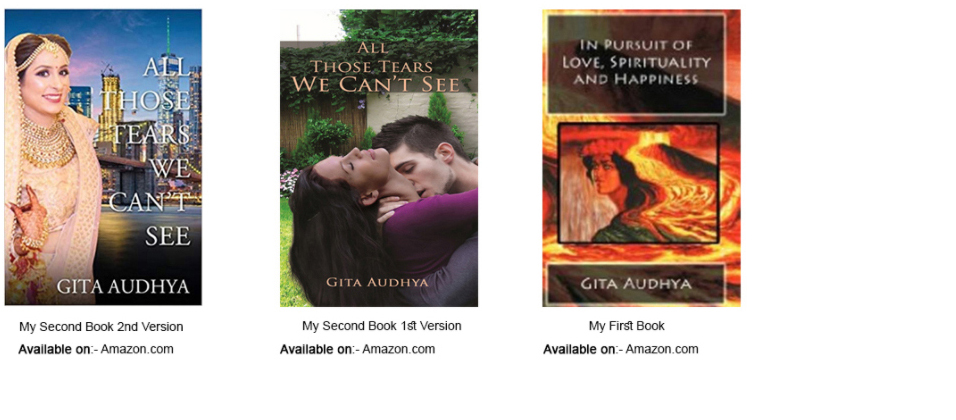 Product details
• Amazon.com
• Publisher : Outskirts Press; 2nd ed. edition (March 14, 2020)
• Language : English
• Paperback : 262 pages
——————————————————————————–
Kindle Edition
https://amzn.to/2QpyVHl
https://www.amazon.com/-/e/B0089HDOC2
• Amazon.com
• ASIN : B088WHNDB1
• Publisher : Outskirts press, Inc.; 2nd edition (May 18, 2020)
• Publication date : May 18, 2020
• Language : English
• File size : 1272 KB
———————————————————————
Also Available at B&N, Walmart, Balck well
About this edition in pursuit of love happiness
Page count:240
Published:July 22, 2009
Format:E-book
Publisher: iUniverse
Language:English
Author:Gita Audhya
Gita Audhya
Gita Audhya migrated to the United States from England. She has earned her B.A. degree in Literature
from India and computer programming degree from United States. She is very passionate about India and
America. Her entire devotions are placed on the job, writing and the family.